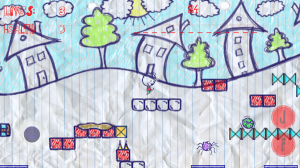 GET HANGMAN ATTACK IN THE AMAZON KINDLE APP STORE
Good News! We finally have made Hangman Attack available for Kindle Fire. You can purchase Hangman Attack in the Amazon App Store. If you aren't familiar with Hangman Attack, it is a a combination of a video game style platform game and Hangman. Outrun the enemies, whether it is paper plane bombs or bird eggs dropping from the sky. Or it could be a mutant spider or a monster ball. Get past the enemies to get to the platform that contains 2 letters (one WRONG and one RIGHT). Choose the letter that you think is right. If you are wrong, of course you get one body part on the scaffold. You win when you have guessed all the correct letters of the word.
Hangman Attack is also available for Android and will be available for IOS (ipods / ipads) soon. Have Fun Playing!
GET HANGMAN ATTACK IN THE GOOGLE PLAY STORE
Hangman Attack Lite (Free)
Hangman Attack (99 Cents)